Virtual Challenges
Take on any virtual challenge you like and help support Alice House
A virtual challenge is a goal that tasks you to do something over a period of time for example; run, cycle or walk a certain distance.
Set up a Fundraising Page for your Virtual Challenge
Anyone of any ability can participate and it can be completed at any location, at your own pace, and in however many stints you require.
There's loads of ideas that you can do yourself such as run a marathon in a month, do a triathlon (swim, bike and run), climb a mountain or why not cycle the coast to coast route on your exercise bike?
Here's some examples…
Virtual Marathon/Half Marathon
Great North Run – 13.1 miles
London Marathon – 26 Miles
So many organised runs take place and not everyone is lucky enough to get a place so why not do your own virtual run – you could even do it on the same date as the organised run.
---
Home Stairs Challenge
Roseberry Topping  Height 100  Distance 800 number of times up and down the stairs 54
The Yorkshire 3 Peaks
Pen Y Ghent  Height 694  Distance 3135 number of times up and down the stairs 209
Whernside  Height 736  Distance 3960 number of times up and down the stairs 264
Ingleborough  Height 724  Distance 2167 number of times up and down the stairs 144
---
Coast to Coast or Sea to Sea
Whitehaven – Sunderland
The UK's most popular challenge cycle route, the C2C is often thought to stand for 'Coast to Coast', but the name is actually short for 'Sea to Sea'. The iconic route travels 137 miles between the Irish Sea and the North Sea, from Cumbria to Tyneside, passing through the northern Lake District before climbing the Pennines and descending to the railway paths of County Durham. Or there's lots of other C2C routes – click here for more details.
---
Lands End to John O'Groats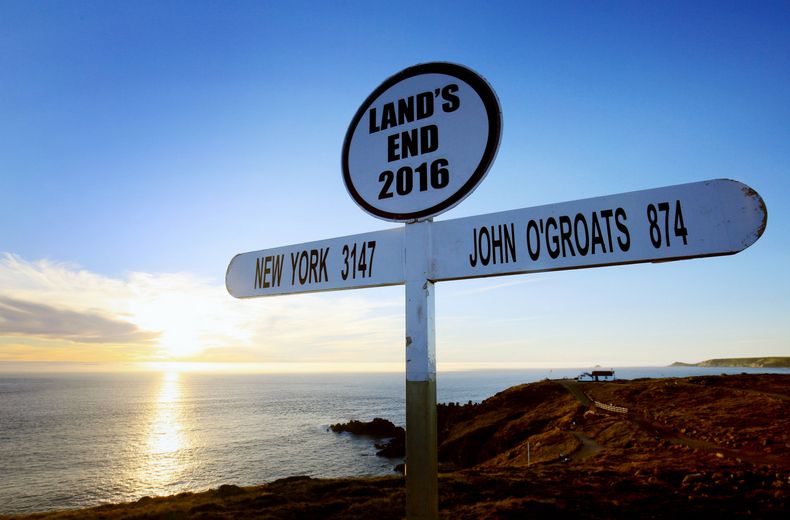 Land's End to John o' Groats is the travel of the whole length of the island of Great Britain between two extremities, in the southwest and northeast.
The traditional distance by road is 874 miles (1,407 km) and takes most cyclists 10 to 14 days; the record for running the route is nine days.
---
Swim the English Channel
The shortest route to swim across it is 21 miles long, but that can change depending on the current. The Channel is one of the busiest shipping lanes in the world, with 600 tankers and 200 ferries passing through it every day! So you can't simply jump in and swim across.
Thats 1,352 lengths of a 25m swimming pool.  A tad warmer than actually swimming the channel, you won't meet any ships and you can take as many trips to the pool as you like to finish the full distance!
---
Try a Triathlon
There's lots of distances to choose from starting at:
Super sprint distance: 400m (swim), 10km (bike), 2.5km (run)
working all the way up to a
Full/long/Ironman distance: 3.8km (swim), 180km (bike), 42km (run)
for more information about Triathlon visit British Triathlon
---
Set up a Fundraising Page for your Virtual Challenge
Looking for Inspiration?
The Jobson family set themselves a goal as a family to row more than a marathon each. 100 Miles in total in one Month. They raised well over £800!

Andrew said, "Alice House Hospice is near and dear to our hearts and with their shops closing they are without a vital source of income – we'd like to support the great work they do!"